Back to Product Grid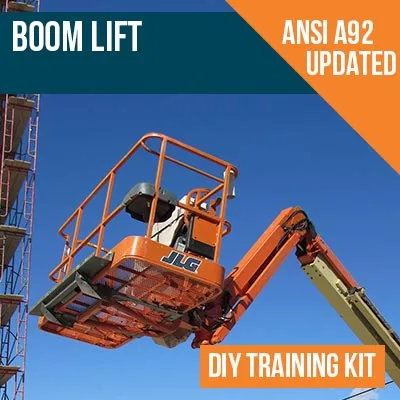 Boom Lift Training Kit
Boom Lift Training Kit: OSHA compliant. Reusable. Customizable.
Covers Boom Lifts (3B) and Scissor Lifts (3A).
*Updated to meet new ANSI A92 Standards for the safe use of Mobile Elevating Work Platforms (MEWP)
Boom Lift Training Kit, Covers these groups and types of MEWPs: (B1, B3)
Looking for a cost-effective and convenient way to offer boom lift training for your employees or customers? Our boom lift training kit (available on CD, USB Drive, or via Instant Download) provides simple instructions with all the tools necessary to train and certify your employees for OSHA compliance.
Simply use the materials in the Boom Lift PPT Training Kit to:
Conduct the training.
Administer the exam.
Issue certificates immediately to those who passed.
*Need both boom and scissor lift training? Get the boom and scissor lift combo kit instead.
Years of knowledge and experience have gone into creating this boom lift training program. We've done all the research and design, so you don't have to. This robust boom lift training kit makes it easier for you to train your workforce again and again. Check out a sample of the asphalt training presentation by clicking on the tab above.
Not quite what you need?  We also offer an online boom lift training course as well as corporate broadcast licenses so that you can make the training materials available on your network to branches across the country.