Back to Product Grid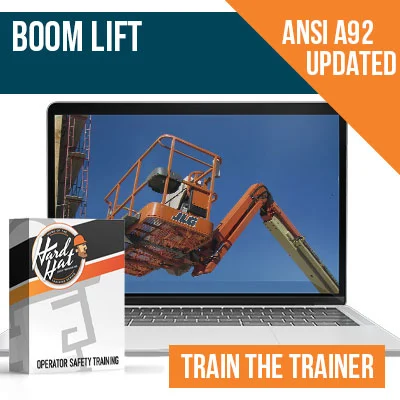 Boom Lift Train the Trainer
Boom Lift Train the Trainer Certification + Training Kit, designed by trainers with 15+ years of onsite training experience. The estimated time for this training is 3 hrs.
Covers 1B and 3B lifts.
*Updated to meet new ANSI A92 Standards for the safe use of Mobile Elevating Work Platforms (MEWP).
*Towable Boom Training is included in this course.
OSHA Compliant
Instant Access
Print Certificate and Card
Company Accounts and Bulk Discounts
Boom Lift Train the Trainer Certification Course Details, Covers these groups and types of MEWPs: (B1, B3)
Becoming a trainer is ultimately an employer designation. For those who are becoming trainers on their own, you simply have to be able to justify why you are competent enough to be a trainer. For OSHA's part, they typically want you to have experience and training.
While we travel the country certifying trainers, the online training course is an easy and cost-effective way to help employers make the designation by offering the required training.
We send our trainers all over the country training both operators and trainers. And even though OSHA does not require a boom lift train the trainer certification (they are more interested in what topics are being trained on), many companies and individuals feel more comfortable going through the trainer program from a well-established, industry-recognized training company like us.
But it doesn't always make sense financially for companies.  That is why we've created the option to get certified online. If you are comfortable training and comfortable with the equipment, you can simply purchase the online trainer course, get your certificate and training kit, and start training. It is a very cost-effective way to go.
Why buy our Boom Lift Train the Trainer Certification Course?
Safety training is an investment. That is why hundreds of companies and individuals all over the world trust the Hard Hat Training Series for their online training needs. Our unique online training program has been fine tuned to provide you with the best training experience possible.